Okay -don't run yet.  I swear, these are amazing.  Not only do they taste fabulous, you can eat them with a reduced amount of guilt, because they contain a bunch of good-for-you stuff too.
I've messed around and adapted this recipe a lot.  Here's the deal…I dont keep buttermilk and brown sugar in the house, because it inevitably goes bad.  This recipe contains only a couple weird ingredients, but they're not hard to find.  I got all of mine at Super Walmart.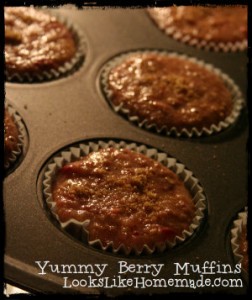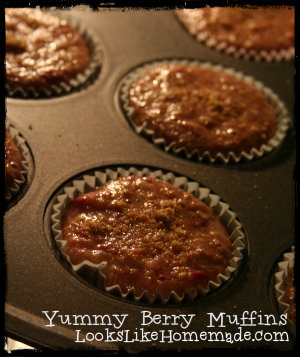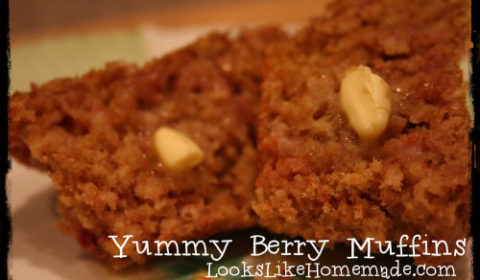 Yummy Berry Muffins – Whole Wheat Flour & Flax Seed recipe
Ingredients
1

Tbsp.

Milled Flax Seed

or whole seed ground in the spice grinder

1

C

Frozen Strawberries - partially thawed and chopped in the food processor

1

C

Quick Oats

1

C

Lowfat Milk

1

tsp.

Lemon Juice or Vinegar

or can substitute 1 C buttermilk for 1c milk and lemon juice

1

C

Whole Wheat Flour

1

tsp.

Baking Powder

1/2

tsp.

Baking Soda

1

tsp

Salt

1

Egg

1/4

C.

Unsweetened Applesauce

3/4

C.

Sugar

1

Tbsp

Molasses

or substitute 3/4 C. sugar and Molasses with 3/4 C. brown sugar
Instructions
Measure 1 cup milk into bowl and add lemon juice or vinegar - let stand for 5 minute

Meanwhile, buzz Sugar and Molasses together in the food processor, add to mixer bowl

Chop Strawberries in same food processor, not to finely, chunks are okay

Add 1 C Oats to Buttermilk, let stand for 5 more minutes

In a small bowl, combine Flour, Baking Powder, Baking Soda and Salt

In mixer bowl, add Egg and Applesauce to the Brown Sugar, mix well scraping sides of bowl

Gently add the Buttermilk and Oat mixture to the Sugar mixture, combine well

Slowly fold in Flour mixture until just combined

Fold in Strawberries

Fill paper-lined muffin cups 3/4 full - this will do about 16 muffins

Top with a pinch/sprinkle of the Milled Flax Seed

Bake 20-22 minutes at 375 degrees - check for doneness with a toothpick, it should come out clean
Nutrition Facts
Yummy Berry Muffins – Whole Wheat Flour & Flax Seed recipe
Amount Per Serving (1 g)
Calories 0
* Percent Daily Values are based on a 2000 calorie diet.