These tasty butter cookies are a holiday tradition in our home. While you can dye and color the dough to make green trees or whatever you like, I prefer the plain sugar cookies with sprinkles and redhots as decoration.
You need a cookie press for this recipe. You could roll them in logs and refrigerate and slice, but it's just not the same.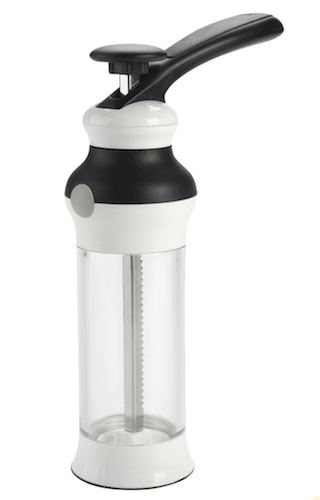 I got my cookie press on Amazon.com – It's the OXO Good Grips Cookie Press and it works well – it works BEST if the cookie sheets are really cold, but that's not really practical when you're baking dozens at a time – just be patient and understand that the dough consistency is directly related to how the cookies come out of the gun and onto the sheet – don't be afraid to chill the dough down if things just get a bit too soft.
Colored sugar and red hots for tree stars or holly berries are my favorite decorations – but you can do absolutely whatever you like!
Enjoy!