I love grilled vegetables in the summer.  I also love when my kids eat grilled vegetables in the summer.  One of my favorite things to throw together is grilled zucchini and mushrooms.  They are dead simple, really healthy, and easy to get the kids to gnosh on.
I had one of those reusable grill baskets and I hated it.  I could never get it clean.  I found some thin grill toppers at Walmart and SCORED!  I love them and can wash them a few times if they dont get gunky.
Look at how tasty these veggies are – makes you want to lick your screen doesn't it?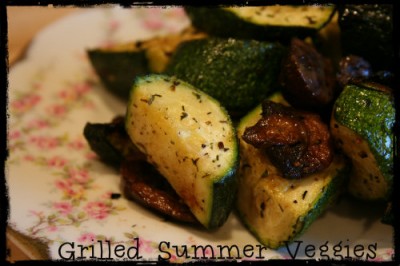 You can substitute or add multiple vegetables in this – green or red peppers are great, asparagus or green beans are great, and summer squash can be added or substituted entirely.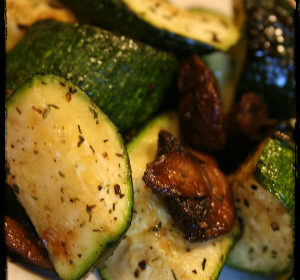 Easy & Quick Grilled Summer Side Dish
Ingredients
3

medium zucchini

i dont recommend the giants for this - they're a little "woody"

1

C

sliced baby bella mushrooms

or whatever you have

3-4

T

Olive Oil

1

Tsp

Kosher Salt

1

Tbsp

your favorite garlic & herb seasoning

I use Wildtree - if your seasoning has salt, adjust how much salt you add above
Instructions
Cut the zucchini into 1 1/2 inch chunks and add to a bowl

Slice or quarter your mushrooms (depending on size) and add to the bowl

Top with oil, salt & seasoning

Mix well with your hands - best kitchen tools out there

Grill on a grid (pictured above) or in a grill pan turning a few times until toasty.

I usually put these on when my protein has about 15-20 minutes left.
On a side note – didn't my pics turn out great?  Loving my new camera!
[slideshow gallery_id="5″]