One of the rules in this house is I dont eat, clean up after, or open a can of tuna fish.  It's nasty, smelly, vile stuff.  My husband loves it, but does his best to reduce my exposure – even washing out the sink when he's done making it.  He's a nice guy sometimes.
That being said, I LOVE chicken salad sammiches.  The best part? Nobody else in the house does, so I get them all to my self.  I also love spicy food – so I decided to develop an easy recipe for spicy chicken salad.  My recipe uses Sriracha – because it's my favorite – but you can use your favorite hot sauce.
If you're looking for other healthy recipes, try MediFastHealth.org – they have a wonderful healthy recipes section that boasts healthy lean & green meals that will give you a lot of great ideas.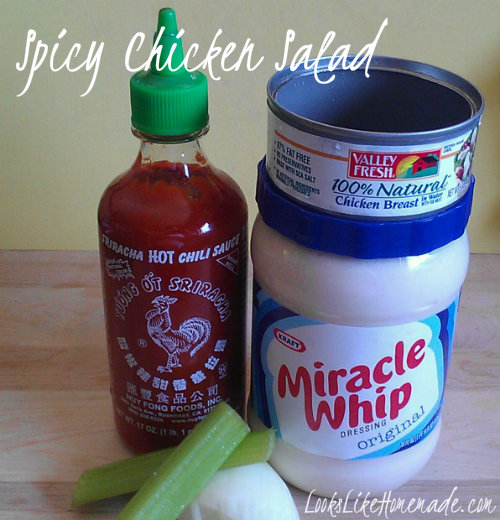 I use pretty simple and easy recipes – sometimes I make a double batch so I have it for a few days.  I'd say this will keep up to 4 days in the fridge.
Tip for making your chicken salad last: Don't double dip.  Dont lick your spoon and stick it back in the bowl.  The enzymes from your mouth will break down the miracle whip (or mayo if you prefer) and make your chicken salad icky much faster.  The same goes for sour cream, yogurt or cottage cheese.  Found this one out the hard way.
Here's the simple process: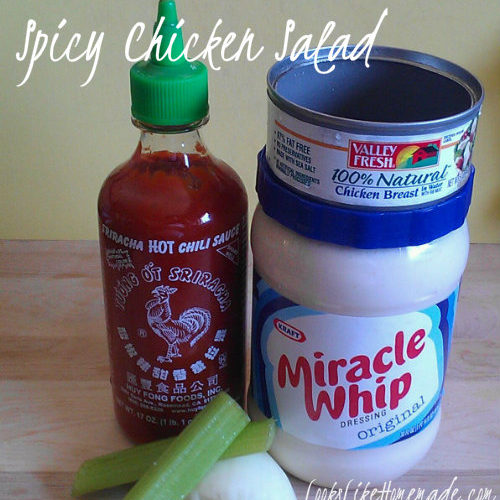 Spicy Chicken Salad – Quick and Healthy
This recipe will make enough for 2 really generous sandwiches.....or many tea sandwiches.
Ingredients
1 4

oz

can chicken breast

1

Tbsp

finely diced onion

2

Tbsp

finely diced celery

2

Tbsp

Miracle Whip

or mayo if you prefer

1

tsp.

Sriracha hot sauce

more if you like more spicy

dash salt

dash pepper
Instructions
Combine all ingredients in a bowl and mix well

Serve on whole wheat bread or a croissant if you want fancy. You can get super fancy and serve on white bread with the crust removed as a tea sandwich.

I also like this served in a lettuce cup to reduce carbs
[slideshow gallery_id="1″]