I am a reluctant landscaper.  I LOVE how it looks when things are all done, but the getting ready and DOING the project take so long, I'm more likely to procrastinate than anything else.
It was time for a backyard transformation though. We had looked at the ugly long enough.  Here's how it looked in the end:

But it took us awhile to get there………
We were set on spending the holiday weekend at our family's cabin in Buena Vista – but some softball and baseball commitments kept us home.  That's okay – we actually got a lot done.
The 3′ immediately off back side of our house was graveled and rocked in when we originally landscaped everything.  It was okay, but boring and very hard on the paint.  We decided some flower beds would be a great way to clean things up.  As we got going – one bed turned into 3, but they all look fabulous so it was well worth it.
I didnt get a 100% before pic, but imagine all of this filled in with gravel and large river rock, 2″ to 3″ in diameter.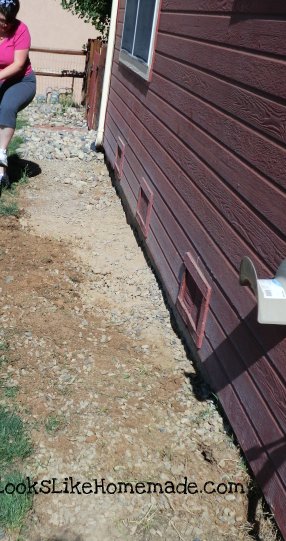 So we moved rock, lots of rock.  I had done some of this earlier in the week, but Todd and Aerik did most of it and I started taking sod out where we wanted to put the border in.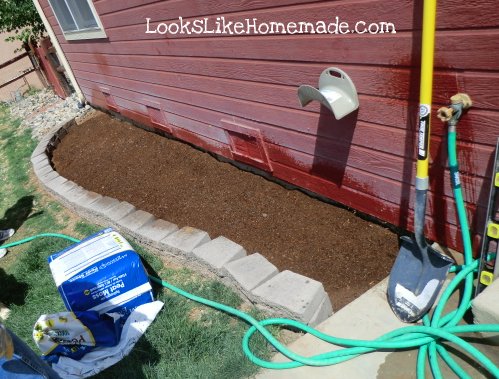 Once we got the border in we added some dirt.  Amazingly the dirt underneath wasn't that awful, just a tad clay-ey – so we lightened it up with some planting soil and peat moss.  I really like how the border turned out and Lowes had the cement pavers 20% off so what was going to cost me about $4.00 a foot ended up at just over $3 a foot – Yeay!
We decided at this point that the rocks that were left beyond the bed on the other side of the gutter near the gate had to go.  Todd suggested veggies and I jumped on it.  Maddie and I ran to town to get more border and some flowers and such while Aerik and Todd moved rocks.  We got back and set the rocks – it now was ready for planting.  Here's how it looks now: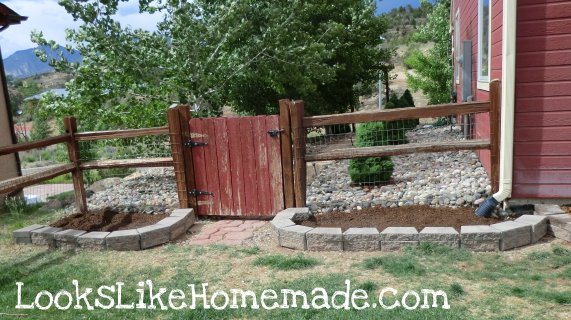 And here it is with flowers – veggies go in today!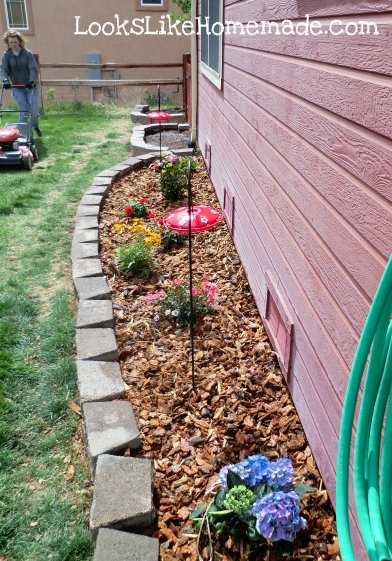 All together, with plants (and I didnt skimp on those) we spent about $377 on this project and it took us a day – with 4 of us working on it (okay 3.5 – Aerik doesn't help much.)  We did have 4 dogs supervising – so that was also 'helpful' and we had to take a trip in to Lowes (30 miles away) to get more supplies.  All in all we got a lot done, and are now paying for it the next day!!  Our sore backs are well worth the outcome though