I love Food Network – its an addiction, almost as strong as my addition to recipe & food magazines. Yes, I know I can find all of the recipes online, but holding that color photo of yummy food in my hand and curling up on the couch with my notepad and endless possibilities is so comforting. Heck,I could be addicted to something more expensive, like Prada or Hermes….
Maddie and I were in the grocery today and they had some nice artichokes. Maddie said "Lets make artichokes like Mario Batali." Challenge Accepted.
2 things – 1) I wasnt turning the oven on today – it was hot and 2) I had no fresh parsley….its okay – we improvised with the grill and some dried herbs – they were amazing!
Here's the Recipe: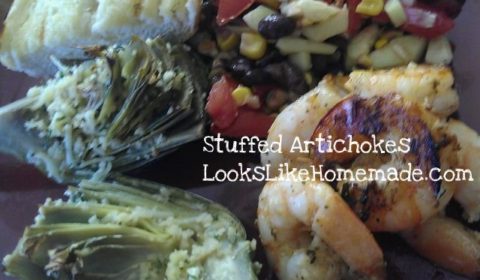 Carciofi Ripieni – Stuffed Artichokes
Ingredients
2

ea Medium Artichokes

1

ea Lemon

1/2

Cup

Shredded or Grated Parmesano Regiano

1/4

Cup

Bread Crumbs

3

Tbsp

olive oil

1

ea clove garlic

2

Tbsp

Chopped Fresh Parsley or 1 Tbsp Dried
Instructions
Trim the very tip of your stem and peel the tough outer layer from the stem and take the really tough outer layer of lower leaves off the artichokes

Rub the cut parts with lemon and place in a pan with about 2" of boiling water, throw the rest of the lemon in and a couple pinches of salt

Steam the Artichokes until you can pull an inner leaf out without too much tugging - remove and run under cold water

Drain well and cut into quarters and dig out the center thistle with a spoon

While your artichokes are steaming, combine the rest of the ingredients in a bowl and mix well. You may need to add a tad more or less olive oil, you want the mixture to stick together slightly

Once you've removed the chokes from the artichokes - start stuffing the mixture between the leaves and in the hollow "middle" where the choke was

Place on a double sheet of heavy duty aluminum foil and put on a hot grill, leave until cheese is melty and remove

Cool and eat - can be served at room temperature as an antipasti or warm or hot as a side dish.