This is a recipe from WeightWatchers.com that I had to fix.  If you make it as they wrote it – its WAY TOO DRY!  So I fixed it  We also had a freezer full of elk – and its leaner than beef so I adjusted the recipe to use elk!
Keep in mind – your ingredient changes always change point values.  The points were figured on WeightWatchers.com's recipe builder.
Enjoy!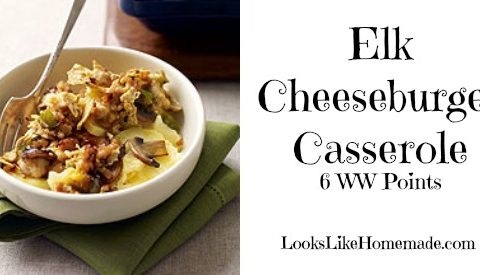 Weight Watchers Elk Cheeseburger Casserole
Ingredients
2

Large Russet Potatoes

16

oz

raw ground elk

2

sprays cooking spray

1/2

cups

onions

chopped

1/4

cup

fresh green chili pepper

chopped - or use 1-4oz can green chiles

1

cup

fresh mushroom

sliced

1/8

tsp

ground cumin

1/4

tsp

table salt

1/4

tsp

black pepper

1/2

Cup

Reduced Fat Mild Cheddar Cheese

Shredded

1/2

cup

fat-free skim milk

1/2

Tbsp

hot sauce

8

baked low fat tortilla chips
Instructions
Preheat oven to 350.

Scrub and pierce your potatoes and microwave for 5-6 minutes on high.

In a large skillet spray with your pan spray and saute the onion, garlic, green chile and mushrooms until golden brown.

When potatoes are done a knife will insert and pull back out easily. Let cool on your cutting board. and then peel.

Slice potatoes thinly and add to a sprayed 9x9 baking dish. Slide the dish into the oven to crisp the potatoes

Remove the cooked vegetables from the skillet and add your ground elk. Saute until completely cooked through and drain if necessary.

Add the vegetables back into the cooked elk and cook together for a few minutes.

In a small bowl combine the milk, hot sauce and cheese and microwave until cheese is melted, about a minute. Stir well.

When the potatoes are golden, pull the pan out of the oven and add in the meat and vegetable mixture. Pour the cheese mixture over the top and crush up the chips and sprinkle on top.

Bake for 20-25 minutes until cooked through.

6 WW PointsPlus Per Serving - Serves 6

Serve with a green salad.