I am a huge fan of Chinese food – mostly the Americanized versions – but I love most of them.  The fresh veggies and salty flavors make me so happy.  My kids share my love for all things Asian – my hubby?  Not so much.  He doesn't like Soy Sauce! Isn't that weird? How can you not like the salty goodness that is soy sauce?  Boggles the mind!
This recipe was adapted from a Pork Lo Mein recipe I found at WeightWatchers.com.  Their recipe used linguine – and if you don't have udon you can ABSOLUTELY substitute it!
Give it a try and let me know what you think!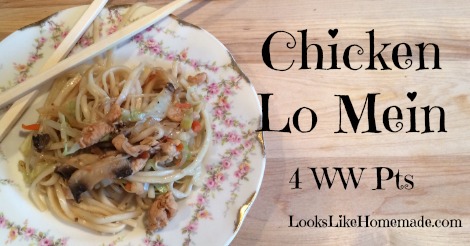 Weight Watchers Chicken Lo Mein – 4 Points
Ingredients
8

oz

uncooked boneless skinless chicken breast

8

oz

uncooked udon noodles

4

Tbsp

low sodium soy sauce

1

clove

garlic

Minced

1

Tbsp

minced ginger

1/8

tsp

table salt

1/2

cup

carrot

Shredded

1

tsp

canola oil

4

oz

fresh mushrooms

sliced

3/4

cup

fat free chicken broth

1/2

cup

uncooked cabbage

shredded

1

cup

uncooked bean sprouts

fresh or canned

1/3

C

scallions

sliced on the bias
Instructions
Bring a pot of water to the boil and cook the udon to package directions - when the udon is almost done, drop in the shredded carrots and cook with the noodles for a few minutes to get them tender. When the Udon is al dente, drain and set aside

While the pasta is cooking, dice the chicken breast into small pieces. I usually cut it into a 1/2" dice then bang through it with my cleaver, it doesnt have to be pretty - just chopped up well.

Combine the chicken, garlic and ginger in a bowl with 2 Tbsp of Soy Sauce and stir well, set aside.

While your chicken marinates, shred your cabbage, rinse or drain your sprouts. Get everything ready to fry because it will go fast.

After 20 minutes - heat 1 tsp of canola oil in your wok to smoking hot - add in the chicken & mushrooms and stir fry until chicken is cooked through and mushrooms turn golden - about 8 or 9 minutes

when chicken is done, add in the sprouts and cabbage and 1/2 C of chicken broth. Cover and let the cabbage and sprouts wilt down for about 4 or 5 minutes

When the cabbage has wilted, dump in the remaining 1/2 C of chicken broth, the remaining 2 Tbsp of soy sauce and the noodles and carrots. Mix very well and cover for a few minutes to heat through.

Serve in a nice bowl and sprinkle the scallions on top!

Enjoy!