I was CRAVING something baked yesterday morning. Unfortunately my hubby thought a chocolate cake on the counter was a good idea – FORTUNATELY I was able to resist the temptation.
But how to solve my problem? Then I found a recipe that would allow me a baked sweet treat, without blowing my points for the day. These Blueberry Bran Muffins are dead simple to mix up – and they taste really good! The bran adds a level of flavor and "nuttiness" that the regular boxed mix totally misses – and using the wild blueberry muffin mix adds great blueberry flavor. My only gripe? The box mix only has a tiny amount of blueberries. Next time I may add a few more frozen berries to up the fruit content just a bit.
The recipe I chose was on Kitchme.com – and I followed it NEARLY exactly – but used Kelloggs All Bran, because I couldn't find the Fiber One bran cereal. My Points came out differently and this may be why. Here are my calculations:
1 Box Fat Free Blueberry Muffin Mix -3 pts per serving – servings per box = 11 so 33 points per box
3 C All-Bran Cereal – 2 points per 1/2 cup – 3 cups total = 12 points in 3 cups
Total points = 45. I made 16 regular size muffins – so that works out to 2.8 points per muffin – round up to 3 points per muffin. I imagine MINI muffins would be 1 point each or so.
Give these a try and let me know what you think!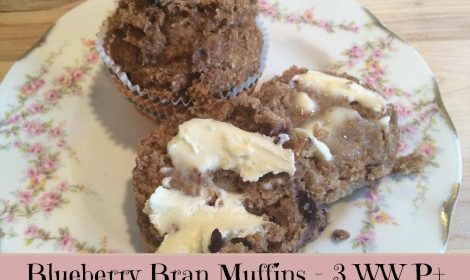 Blueberry Bran Muffins – 3 WW Pts Each
Ingredients
3

Cups

Kellogs All Bran Cereal

1

Box Krusteaz Fat Free Wild Blueberry Muffin Mix

2 1/2

Cups

HOT water

1 1/2

tsp

Baking Powder
Instructions
In a large measuring cup - combine the All Bran and the hot water - set aside

In your mixing bowl, combine the muffin mix and the baking powder.

Open the blueberries and drain well.

Combine the bran cereal and the muffin mix until just combined - don't over mix, then fold in the blueberries.

Scoop into paper lined baking cups

Bake at 350 degrees for 20-22 minutes for regular size muffins - 12-15 minutes for mini muffins

3 WW PP for the regular muffins - 1 WW PP for the mini muffins