We're out of town for Memorial Weekend, so we'll have meals through Thursday planned.  We're going to our cabin and I might precook and plan meals for that, so will post another set of "transportable" foods for the weekend.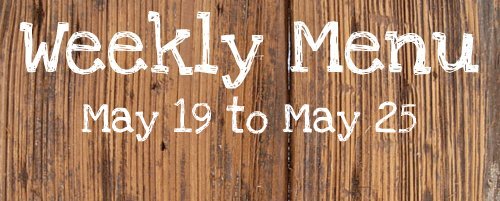 Saturday – Grilled Pork Chops, roasted potatoes and brussels sprouts, blackberry or peach cobbler with homemade cinnamon ice cream for dessert
Sunday – Grilled Shrimp, Roasted Corn Salad, Baked Beans.  I found a crock pot beans recipe I want to try and freeze the rest.  I'll let you know how it goes.
Monday – Breakfast casserole – this is really different from anything I've done before but it looks yummy!
Tuesday – Bacon Cheeseburgers
Wednesday – Spaghetti & Meatballs, Fresh Salad & French Bread
Thursday – Pizza – white for me and pepperoni for the kids & Todd.  I LOVE pesto pizza with mozzarella, artichokes, and spinach – yummo!