Yum! I love wild rice – a love that probably traces back to my upbringing in northern Minnesota. My grandpa used to harvest wild rice and we always had it in the pantry. These days it's a bit harder to find, and more expensive – but it's SO WORTH IT!
First you must endure a little lesson about wild rice – because it is one of my favorite things. Fact #1 – It's a grain – not a rice. Fact #2 – It has been found in layers of the earth dated as far back as 12,000 years. It is most definitely an ancient grain.
Fact #3 – Any wild rice that is actually growing wild in Minnesota's state waters can only be harvested with a permit -and must be harvested the same way the First Nation tribes harvested it years ago. Which is actually a pretty cool process.
I love the flavor of wild rice, but it does take awhile to cook – so plan accordingly – 1 cup of wild rice in about 3-4 cups water cooks in about 45-55 minutes. If you've never made, or eaten, wild rice – this recipe is an amazing intro – it's easy, flavorful, and good for you. Get adventurous and trade out the orzo for another ancient grain – maybe faro or barley would be good!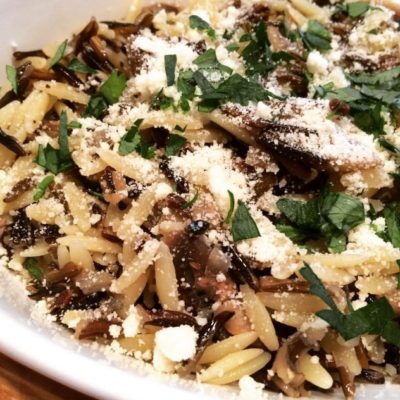 Wild Rice, Orzo & Mushroom Pasta
Tasty - easy - and an amazing side dish! I actually eat this as dinner when I'm home without the troops.
Ingredients
6-8

C

Chicken Stock

Reserve 1/2 C for final product

1

C

Wild Rice

prepared using chicken broth or stock according to package instructions

1

C

Orzo

cooked in chicken broth

1/2

C

Onion

minced

8

oz

Mushrooms

sliced

2

tsp

Garlic

minced

1

Tbsp

Coconut Oil

Salt

Pepper

Parsley

Parmesan Cheese
Instructions
Prepare the orzo and wild rice according to package instructions - but use chicken stock instead of water. You could also use vegetable stock if you wanted to keep this vegan/vegetarian. Wild rice doesn't absorb as much water as white or brown rice - but it does need to cook for a long time - don't be afraid to use a lot of water and just drain it when it's done. Refer the the photo to see what it looks like when it's done - it will curl up and expose the white inside of the grain.

While the grains and pastas are cooking - slice your mushrooms and mince your onions and garlic.

Heat the coconut oil in a saute pan and add onion and mushrooms - saute until mushrooms are nearly done, then add in the garlic and heat through.

Add the orzo and wild rice into the mushroom mixture and stir well. Add in reserved 1/2 cup of stock and taste and season with salt and pepper as needed. Let simmer for just a few minutes so the stock can come together with the rest of the ingredients.

Serve with a sprinkling of parmesan cheese and minced parsley.