I've been really poor at getting my weekly dinner menu put up on a regular basis.  I haven't been planning, or cooking much – due to a recent Kitchen remodel and a back injury.  I'm back to a fairly normal kitchen and a 50-60% better back, so it's time to get the menus going again.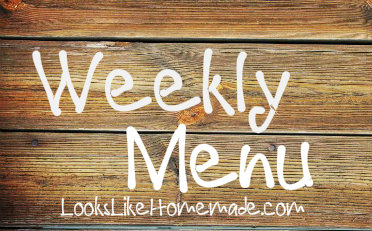 This week we had a few requests, and hubby and my son are headed to an archery association get together on Friday so the girl and I will be fending for ourselves over the weekend.  We have a few things planned for girl time.  One being SUSHI NIGHT on Friday.  There are VERY few places to get decent sushi in the mountains.  We are lucky enough to have a pretty good place in Glenwood Springs, about 25 miles away from here, and the same town where the kids go to school, so we'll stay in town after school friday and do some shopping and grab sushi for dinner.  My husband refuses to even TRY sushi, so this is a treat for us while they're out of town.
This week's menu is pretty straight forward, a few things I havent posted about in the past so I'll get some  new recipes up this week.  Starting today, Sunday, with a request from the girl.  Homemade baked Mac & Cheese with Bacon.  I'm not a fan of this stuff.  Mac & Cheese is just NOT a meal to me, it's a side dish.  But the family loves it, and the smear it in applesauce, which absolutely violates a food rule in my book.  But i suffer through it every month or so to humor them.
Here's the plan for the week!
Sunday – Mac & Cheese with Bacon

Monday – Grilled Cod or Sea Bass.  I'll send Todd by Whole Foods on his way down from Aspen and we'll consult via phone on what's good that day.

Tuesday – Tostadas.  This recipe is from one of Maddie's friends.  Very tasty and easy to put together.  I'll share it on Tuesday night

Wednesday – Grilled chicken – I'll Spatchcock a whole chicken and grill it under a brick outside.  Never Spatchcocked a chicken?  Check it out!

Thursday – Valentines day – I'm supposed to make a surprise meal, but hubby said something about going out – so we'll have to see 🙂