A few days ago I shared the recipe for Easy No Knead Crusty Bread from the Simply So Good website. I finally got brave and mixed up a loaf of flavored bread.
One of the experiments was a Jalapeno Cheddar loaf. I thought about this one for a few days, because I wasn't sure whether to use fresh, pickled or canned jalapenos. In the end I used the pickled jalapenos because a) I had them on hand; and b) I didn't have to open a can of something and use about 1/5 of it.
The instructions about how much to add and when to add it were a little vague. I put my Sherlock hat on and did some deducing.
1) You're not really supposed to mess with this bread much after you initially mix it up, so mashing in cheese and other things after it's risen and before it goes in the oven with little to no raising time seemed counter-intuitive – so I decided to add the extra ingredients right in the initial mix-up.
2) Quantity in the original post is quite vague. She added 2 1/2 Cups of cheese for 2 loaves, so I thought about 1 cup of cheese would do well, and about 2 Tbsp of Jalapenos. This was based on her adding 2 full zested lemons to one recipe, and 3/4 Cup of cranberries to another. Plus, the jalapenos are HOT, so I wanted the loaf to be edible.
It's edible, it's VERY edible!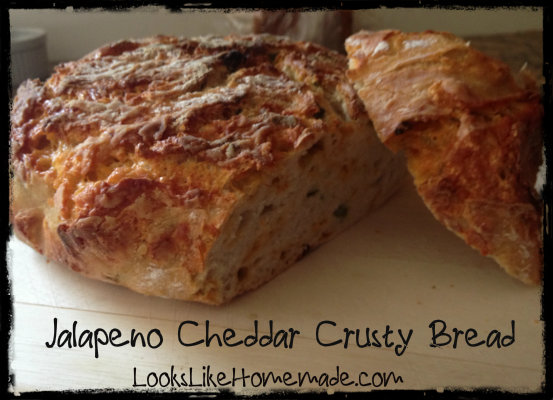 So here's the final recipe: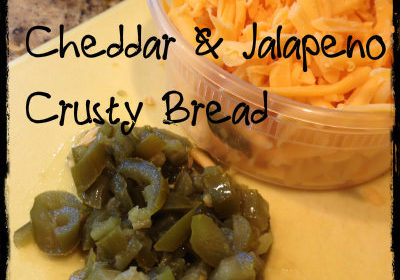 Jalapeno Cheddar Crusty Bread
Ingredients
3

C.

Flour

1 3/4

tsp.

Salt

1/2

tsp.

Yeast

1

C.

Shredded Sharp Cheddar Cheese

3

Tbps. Diced Pickled Jalapenos
Instructions
In a large bowl combine the flour, salt, yeast and water and mix just slightly to combine

Add in the cheese and Jalapenos and stir until just combined and the bread is shaggy