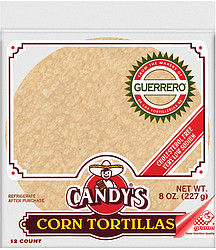 Dinner in a flash – and it's tasty.  I use a corn tortilla called Candy's for these and crisp them up in the oven.  2 tortillas are only 90 calories. I think the taste of crisping up your own corn tortillas in the oven is so much better than buying hard tostada shells – those are also fried in oil – not good.
This recipe is very flexible – easy to put together, and fresh.  I love using my crockpot shredded chicken on these – makes getting dinner together extremely easy and fast.  Add your favorite taco toppings, a great Mexican cabbage slaw would be great as well!
If you like taco seasoning flavors -this is great – but remember – the shredded chicken from my recipe above is really flexible -so add what you like – green chiles, hot sauce, etc.
This is how we had our tostadas and they were VERY good.  Next time I'll put some Cotija or Queso Fresco on ours or a bit of authenticity!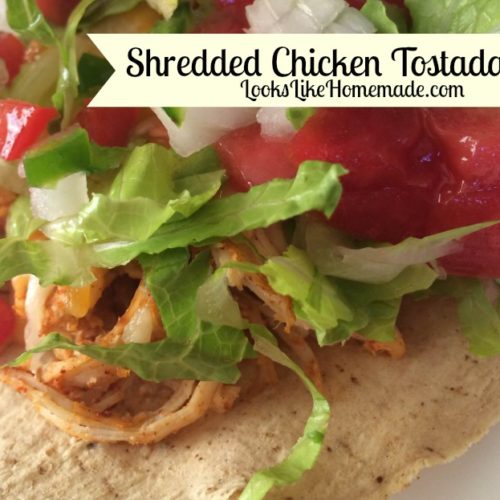 Shredded Chicken Tostadas
Ingredients
6-8

Candy's Corn Tortillas

Shredded Chicken from Crockpot Shredded Chicken recipe - or from leftovers

1/4

package of taco seasoning

1/2

Can refried beans - your favorite is fine - or leave them off if beans aren't your thing
Taco Toppings
Shredded Cheese

Lettuce

Tomatoes

Avocado/Guacamole

Onions

Salsa

Cilantro

Lime Wedges
Instructions
preheat your oven to 400 degrees, lay out corn tortillas on a baking sheet and set aside until oven is heated

While oven heats, warm your shredded chicken in the microwave a bit and stir in the taco seasoning. I like this in just the powder form and not cooked in with water like the instructions say. You do this however you like - some just like salt, pepper and cumin in their taco toppings.

Heat up your refried beans in the microwave until warm - they don't have to be boiling hot

When oven is heated, bake corn tortillas until crisp - 8-10 minutes and remove

Spread refried beans on tostada, top with shredded chicken and cheese. Return to oven for about 5 minutes until cheese is melted.

Serve with toppings and your favorite salsa