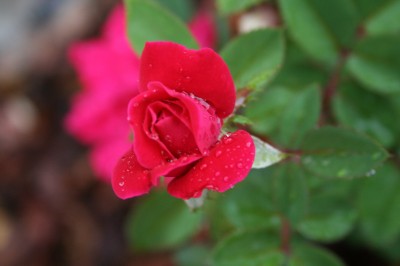 Hey all.  Just received my new-to-me camera in the mail.  I'm pretty excited.  I'm sure you can tell by the photo quality until now that my point and shoot just wasnt cutting it.  I decided to upgrade to a DSLR, but didn't want to spend a small fortune just to find out "its not the equipment, it's the operator."
So I headed over to Ebay and dug around a bit – looking for something that was entry level and affordable.  I think I found a good one.  It's older, uses Compact FLash cards instead of SD cards – but it works – and works pretty well.
I've been working on macro shooting since I got it – Its definitely got a steeper learning curve than any point and shoot – but I think I'm doing pretty good.
Here are a few snaps of some flowers my girl Tish gave me for my birthday – mixed in with some with my fledgling flower garden after a rain.
[slideshow gallery_id="3″]
Do you have any photo shooting tips?  I read a few over at one of my favorite blogs – ThePioneerWoman.com – she takes some great photos for her site, of food, kids and critters.  She also has a contributor that shares some tips on shooting with Macros.