This Once a Month (or so) recipe came around last fall when my daughter was struggling to have breakfast and suffering from migranes if she didnt.  I drive the kids about 25 miles one-way for school – to the "good" school district – and getting them motivated to leave the house is not an easy feat.  15 and 10 are not good ages to get moving in the morning.  I will say the 15-year-old does much better than the 10 year-old – most of that must be vanity and the fear of going to school without doing her hair and changing her outfit 10 times.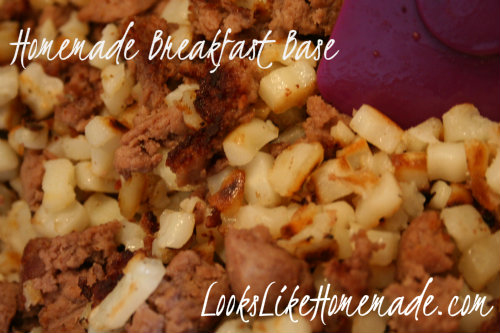 I make these in big batches, sometimes doubling or tripling the ingredients so I can have a ton of 1 cup portions in the freezer.  They heat up well, great when you throw whatever toppings you like on them – easy to eat out of a baggie or paper cup in the car – they're even great for camping – just wrap in foil and throw on the edge of the fire or on the griddle – yummy!
You can add the optional ingredients during cooking if the whole household is agreeable, mine aren't – so the base is pretty plain – we jazz them up when they're in the re-heat stage.  I find putting these in snack size zip bags works really well.  They're never around long enough to worry about regular versus freezer bags – you might want to think about that if you dont think you'll eat them quickly.  I figure these run about $.60 per one cup serving.  A frozen breakfast bowl from the grocery store will run you about $3.50 – so this is a huge savings.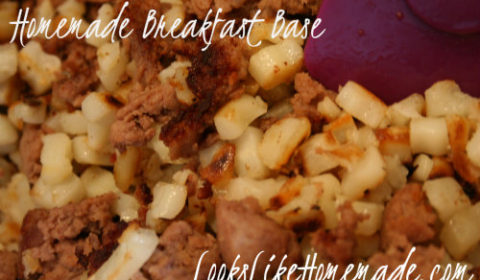 Breakfast Base – Burritos or Breakfast Bowls
Ingredients
2

lbs

Ground Turkey Sausage

1

Large Package Southern Hash browns

the square ones

8

Eggs

scrambled

Green Chilies

optional

Salsa

optional

Cheddar Cheese - use during serving
Instructions
brown off your turkey sausage, drain and place in a large mixing bowl big bowl

cook your hashbrowns in the sausage drippings - or get healthy and use a clean pan and some olive or vegetable oil, mix in with the sausage in the mixing bowl

Scramble your eggs and cook until nearly done, dont overcook - and mix in with the potato and sausage mixture

Add in your salsa or green chiles and mix well (optional)

Scoop into a snack size zip bag and squish out air - freeze flat as you can in the freezer. Once all are frozen - combine in a big zip bag

Breakfast Bowls:

To reheat thaw baggie for 15 seconds, dump in a bowl and reheat for 1 minute, add 1-2Tbsp of cheddar cheese and heat for 1 more minute

Burritos:

Reheat as above and dump in toasted tortilla with salsa and sour cream