In my search for low-cal, high-fiber lunch ideas I can throw together while I work at home – I came across some rice-bowl recipes.  Unfortunately – white rice is a pretty empty, high calorie food.  I took what I know about whole grains and modified the recipes to come up with my chicken &  multi-grain rice bowl recipe.
You could easily substitute in any low-fat protien, even tofu.  Add what vegetables you like and beef up the veggie content and the "bulk."  The more you eat, for the least number of calories – while adding in whole grains and protein – will keep you feeling fuller, longer.
To make this recipe super fast – I use Minute Rice Multigrain Medleys – tasty and quick.  They are fairly high in calories – but if you load in a bunch of veggies and a little bit of protein, you're still under 3oo calories for a big lunch!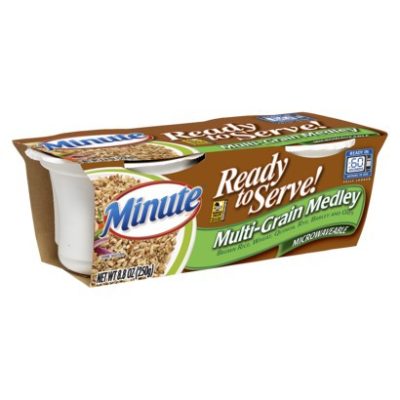 Multi-Grain Rice Bowls
Ingredients
1

lb

ground chicken breast

thawed

1

serving cup of Minute Multi-Grain Medleys

They come pre-measured in individual serving cups - you want one of these.

1 1.2

C

coleslaw cabbage blend

with carrots

1/2

C

Broccoli Florets

fresh or frozen

1/4

C

Onions

slivered

1

tsp

fresh ginger

grated

2

Tbsp

Soy Sauce

4

Tbsp.

Chicken or Vegetable broth or stock

1

tsp

fresh garlic

grated

1

Tbsp

Olive Oil
Instructions
Brown your ground chicken breast in 1 Tbsp of olive oil.

When ground chicken is cooked all the way through, toss in garlic, ginger & Broccoli.

Pour in 2 Tbsp of Chicken or Vegetable broth and cover.

When broccoli is halfway soft add in the cabbage and another Tbsp of broth - cover.

When Broccoli is completely soft, add in the multi grains and stir well. Pour over last Tbsp of broth and the 2 Tbsp. of soy sauce. Stir will again and cover until everything is heated through

Divide into 4 storage containers and cover & refrigerate.

Reheat in microwave - 1 1/2 minutes on high - stir and cook 30 seconds more.
Nutrition Facts
Multi-Grain Rice Bowls
Amount Per Serving
Calories 230
* Percent Daily Values are based on a 2000 calorie diet.