I love Cajun food.  I'm not a very good Cajun cook.  Truth is, I probably need some lessons to make authentic Cajun food.  The recipes and techniques are passed down through generations for a reason, I just don't think you can cook something authentic with a recipe and the ability to chop some vegetables.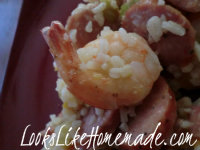 That being said, I CAN make some pretty good food, not authentic does not mean not good…..in fact, most of my attempts have tasted GREAT.  The lesson here is, just because somebody's grandma didn't make it, doesnt mean its not good.
This recipe is one of those that is not authentic, but is still good.  I was drawn to it because of it's lack of canned stuff and processed and packaged flavors.  The sausage, I'm sure, has some weird stuff in it, but it still tasted good.
If you wan to try a cajun-type recipe, this is one to try.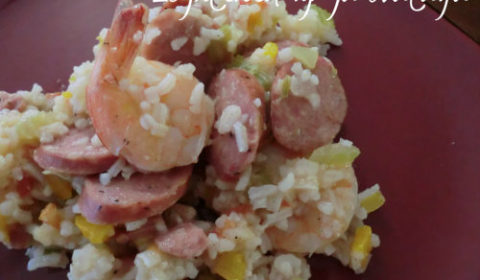 Andouille & Shrimp Jambalaya
Ingredients
1

C

Long Grain Rice

6

Cloves

Garlic

3 grated and 2 minced fine

Salt & Pepper

1

Tbsp

Extra Virgin Olive Oil

1-12

oz

package andouille sausage - 1 link diced small

1 link sliced

1

bunch green onions

sliced with some green

1/2

small yellow onion

diced fine

2

bell peppers

any color diced small

3

ribs celery

diced

2

small tomatoes

diced fine

1/2

lb

shrimp

peeled & de-veined
Instructions
In a medium saucepan, bring 2cups water to a boil with the rice, grated garlic an d1/2 tsp salt & pepper. You can use brown if you want - extend cook time on the rice a bit. Lower your heat and partially cover and simmer for 15 minutes (25 for brown rice.)

While the rice cooks, heat 1 Tbsp olive oil in a dutch oven and saute diced sausage for a few minutes

Add in the sliced garlic, yellow onion, green onions, peppers and celery along with 1/4 C of water. Cover and cook over medium until the vegetables are soft, stirring occasionally.

When veggies are soft, add in the tomatoes and cook uncovered until the tomatoes start to release their liquid.

Stir in the par-cooked rice (with any liquid in the pan) and simmer together, stirring occasionally, until the rice is nearly done

Add in the sliced sausage and cook til nearly warmed through

Add shrimp and cook until shrimp is pink and perfect
I took this amazing picture of veggies – I'm posting it because I've been struggling with photography lately and I really like how it turned out.