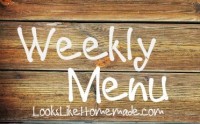 This week is a bit hectic – I'm busy at work, Todd's busy at work, Aerik has Boyscouts and baseball, and Maddie is 17…….oy.
Dinner will be fast for the most part – here's what we have planned:
Sunday – BBQ Ribs and Potato Salad
Monday – Chicken Parmesan (We made this meatless and used Boca Chicken patties – they're good!)
Tuesday – Grilled Pork Chops and Salad
Wednesday – BBQ Chicken Flatbread
Thursday – Skillet Lasagne
Friday – Outback Steakhouse Chicken
Saturday – Tacos
Sunday – Elk Steak
Yum yum!  What are you having?