This recipe was posted by a friend on Facebook, so thought I would give it a try since I have been trying to lose a few pounds. It is totally Weight Watchers friendly except for the Butterfinger candy bars.
Now when it comes to candy bars, Butterfingers would not be my first choice. Anything, and I mean anything dark chocolate literally speaks to me in a language of love!
I've made this twice now WITH the Butterfingers, once for a woman's group and the second time for a dinner party where I was assigned the desert. It got rave reviews all the way around. But I kept thinking it could be better so…
See my comments at the end of the recipe.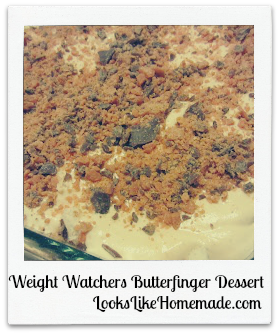 Weight Watchers Butterfinger Dessert
Ingredients
1

Prepared Angel Food Cake

torn into pieces

1

Small Pkg. Fat Free Sugar Free Instant Vanilla Pudding

2 8

Oz.

Cartons of Fat Free Whipped Topping

fairly thawed out

1½

Cups

of FF milk

4

Fun-Size Butterfinger Candy Bars

the colder the better
Instructions
Lightly spray a 9 x 13 cake pan.

In a large bowl prepare the Vanilla Pudding mixing with a wire whip, add in the whipped topping and continue stirring until it is smooth.

Put half of the torn cake in the bottom of the pan and pour half of the vanilla mixture over the top off the cake and smooth it out evenly.

Top with 2 of the crushed Butterfinger Bars.

Now place the rest of the cake on the Butterfinger layer and pour the rest of the Vanilla Pudding mix over the top of the cake smooth it out evenly then sprinkle over the last 2 crushed up candy bars.

Refrigerate for at least 3 hours so it can set up.
…here's how to make it better and even more diet friendly, skip the Butterfingers and use fresh chunked up pineapple. It was tasty and very refreshing compared to the Butterfingers.  Raspberries would be wonderful as well!