Recent issues with my back and a desire to get more exercise in has prompted me to try out a standing desk setup. My first few days were at a makeshift standing desk that was less than ideal and VERY hard on my wrists. It consisted of a table and a small bookshelf and lots of cursing. it worked – but it was uncomfortable.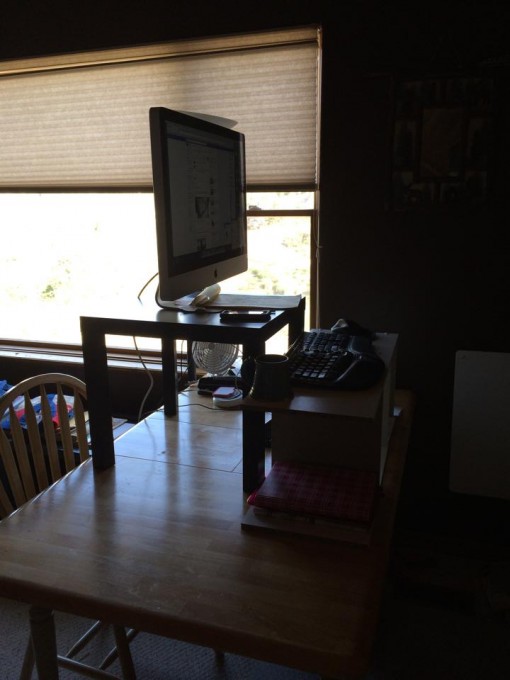 Day 2 and my feet hurt so bad, I wanted to cry. My thought was – lets build a desk that allows me to stand, or sit, depending up on how I felt at any given moment. Problem was, I use a nice big Mac desktop – and moving it from lower desk to taller desk would be a huge pain.
Next idea was to get a desk where the top goes up and down, either electrically or via a manual crank. REsearch revealed a MINIMUM $700 price tag – not including shipping.
Then I saw an ad for VariDesk in my Facebook feed…… intriguing.
Varidesk has a few different setups – but the newest version – the Single Pro – offers a dropped keyboard tray – which the low level option did not have.
$325 was a bit steep, but considering how uncomfortable I'd have been, and the construction project building something would be – I felt it was worth it – so I ordered mine. Total price including shipping was $370. I paid for all of it – this is NOT a paid review 🙂
I really like it so far – very easy set up – just plop it on the desk and pile on your computer and keyboard. Its pretty heavy – so if you're a gal alone trying to get it up 2 flights of stairs – be prepared for some swearing…it wasn't easy… I guess the "team lift" on the box was there for a reason….
A few "notes"
I use an ergo keyboard and it BARELY fits on the keyboard tray – you can see it hangs off a little. its pretty "locked in" though because the flip down feet on the bottom of the keyboard hook over the back edge of the keyboard tray. This will work fine for me. If it didn't it would have to go back – I NEED my ergo keyboard. This seems like a bit of a design flaw – most folks concerned with standing vs sitting are pretty ergo conscious and using a straight keyboard is murder on hands and wrists.
If I used a regular mouse I'd be in trouble – not much mousing room as you can see. Luckily I use a trackball and don't actually need to move the mouse around. I think the keyboard tray could be a tad bigger – which it is on the VariDesk Pro Plus (I got the VariDesk Single Plus)
Feels very sturdy – Was a bit afraid in the standing position it would feel wobbly – but its great so far. PLENTY of room on the top for my iMac 27″ all in one. The weight of my AIO is 30# and the limit for this unit is 35# so that works well.
I will say – I tend to sit more than I think I should – but I'm still working on getting my feet and knees to handle lots of standing – so right now I'd estimate I'm at 50/50 sitting and standing. If you want to go cold turkey and have no willpower – this might not be great for your conversion 🙂
Going from sitting to standing takes literally 5 seconds, just squeeze the handles under the sides of the top level and lift – very adjustable and actually raises up all the way to my chest area – so would work well for a really tall person – I'm only 5'4″.

[schema type="review" url="https://lookslikehomemade.com/varidesk-reviews-sit-to-stand-desk/" name="Standing Desk Review" description="VariDesk Sit & Stand Desk System Review" rev_name="VariDesk Single Pro" rev_body="Sturdy and easy to install and use. Can go from sitting to standing in seconds. Great for someone who doesnt want to stand 100% of the time, or someone who will need a long time to gradually convert from sittings to 100% standing at their desk. " author="Carrie Hill" pubdate="2014-05-06″ user_review="5″ min_review="0″ max_review="5″ ]