I am super sick of you, Gladware et. al.  You junk up my cabinets and change the size of your containers constantly – when i melt or lose a lid, I cannot find another set with a replacement size.  I am tired of lids that don't go on and lids that don't fit the bottom I grab, they get icky and I throw the junk away.  I'm exhausted with it and tired of spending money to compound my frustration.
Huzzah!  I have found a solution that doesn't involve me curating the museum-size collection of ghetto ware (leftover cottage cheese and butter dishes) and creates a uniformity to my plastic ware collection.
First – lets look at the problem, then we can decide how to fix it.  My plastic ware cupboard is a hot mess.  This is it – please don't pin this evidence of my kitchen disarray – it's super embarrassing.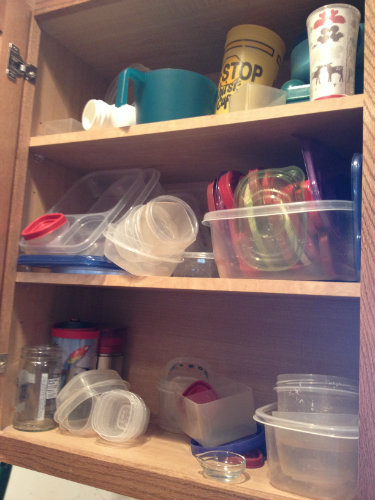 Well, really this is only half of it, some is in the dishwasher, floating around filled with germy gross dishwasher water leftovers.  The issue is, every time you open this – the crap slides out of the cupboard, it's hard to reach – because I'm short, and it's a conglomeration of crap.  This junk is OUTTA HERE.
My first thought was – I need things that are all the same size, and maybe even take the same lid.  I searched around the stores and online and while i LOVE glass Pyrex storage, its so expensive I about had a heart attack.  Then I thought – what about deli containers?  Not the flimsy potato salad ones, but the heavier Chinese takeout soup ones?  I did a quick search and came across the Cambro brand.  FABULOUS stuff – restaurant quality food storage – fairly inexpensive, but any restaurant supply house wants more to ship this stuff than the actual container costs, no thanks.
I turned to my old friend eBay, and was instantly rewarded.  Delitainers, gazillions of them in different sizes; 8oz, 16oz, 32oz, etc.  I placed my order and am waiting patiently for them to arrive.  Here's what I bought (follow the link to browse or buy your own – it helps support my blog 🙂 )
Here's the set I ordered: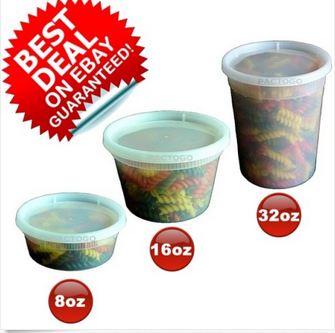 Some pros:
They're fairly clear – so I will be able to see what's inside.  Most ghettoware is not clear, so you spend time searching through the fridge for what you want.  This is not always a pleasant journey although I have grown some really neat science experiments….although I am NOT a scientist, so I don't really need to do this.
They're uniform in size, all round, all nest inside each other, so storing them is going to be SO MUCH EASIER.
I THINK the lids are fairly uniform.  I hope they are, we'll see.
They're fairly cheap, so throwing one away wont hurt my feelings, but they're microwave and dishwasher safe, so I can reuse them often.  I paid $32 for these with free shipping for 75 containers, that's $.42 apiece.  Not bad.
Cons?:
I dont know yet, I'll let you know with a product review once I get these!