I love pork chops.  On of my earliest remembrances of food include thin cut pork chops fried on the stove top by my mother for a fast week-night meal.  Thin cut, because they were cheap at the time, and 2 thin pork chops made a great meal for the two of us with a vegetable and a baked potato.  Very inexpensive and filling.  We were pretty poor when I was a kid, but we ate well, so it was really not that big of a deal in my distant memory.
Last night I had 5 pork chops, not a lot of time, and not a lot of energy to make something fabulous.  I got out the Crisco and a cast Iron skillet, and dinner was ready in less than 20 minutes.  I paired them with leftover potatoes and a green salad, super fast, really easy.
No – pan fried pork chops in Crisco are not healthy – but they are comforting, and honestly – I don't EVER remember making chops this way for my family – not in the last 17 years – so once a decade is probably okay.
Lets talk about Crisco while we're on the topic of unhealthy.  If you're frying – do it right – use Crisco.   Minnie wasn't joking in "The Help" when she said Crisco was amazing 🙂
So here's my recipe for quick pan-fried pork chops.  They're easy, really tasty, could be addicting, so use this recipe in moderation 🙂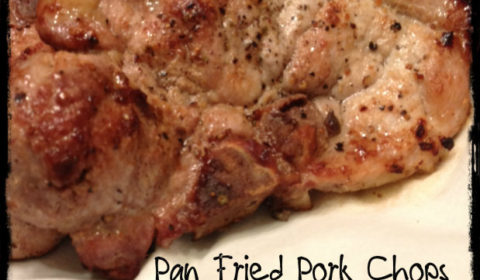 Pan Fried Pork Chops
Ingredients
4-5 3/4

" or thinner pork chops

1/4

Cup

Crisco

Salt & Pepper
Instructions
In a deep cast-iron skillet on medium-high, melt the Crisco until a drop of water makes the oil pop

salt & pepper your pork chops on one side and place seasoned side down in the Crisco

salt & pepper the other side while it faces up

Cook approximately 7-10 minutes on each side until they're golden brown and cooked through. Pork should be 160 deg on your meat thermometer.

Pull out of the Crisco and drain on a paper towel before serving

Enjoy. 🙂