I made this recipe up last night – and it was A-MAH-ZINGGGG! I had some various veggies, condiments, etc in the fridge and I just made a pile and started chopping.  I love the Orecchiette pasta because the little "ears" hold the goodies you mix with them.  It's really  good with cheesy sauces also.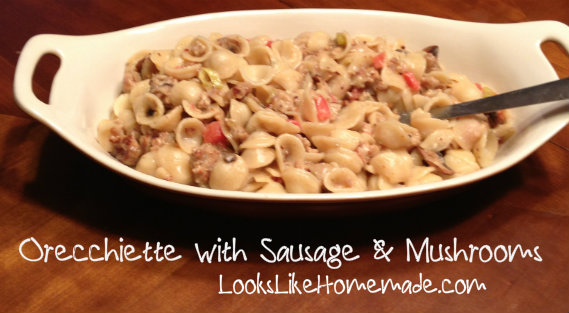 I had a variety of things available.  Pepperoncini is something we always have in the house, we eat them at the side of almost every meal.  Mushrooms I love, so does my daughter -Hubby and the boy, not so much – so I slice them large enough for everyone to see and pick out or savor as needed.  The tomato I had was kind of mealy – so I scooped out the middle and the seeds and just used the outside.  It was a good use for this fairly inferior winter fruit – it came in my vegetable basket so I felt compelled to use it somehow.  I never buy tomatoes in the winter if I can help it.
Like I said, this concoction is pretty easy to throw together, and can be very versatile – give it a try!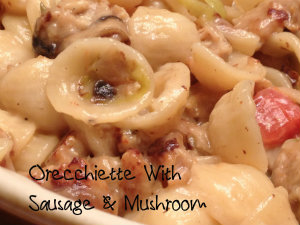 Orecchiette with Italian Sausage, Peppers and Mushrooms
Ingredients
1

lb

Chicken italian sausage

loose - removed from casings

1 16-

oz

box of Orecchiette Pasta

or other small pasta you like

1

small shallot

sliced

1

clove

garlic

minced fine

5-10

medium pepperoncinis

sliced into rings - adjust depending upon your heat preference

4-5

large Crimini mushrooms

1

medium tomato

seeded and diced fine

1/2

Cup

shredded or grated parmesan cheese

1/4

Cup

Chicken Broth
Instructions
Put a pot of water on for the pasta, Orecchiette are dense so they take a bit longer to book, like Farfalle, than a spaghetti-type pasta. When it comes to a boil, Salt & Drop the pasta in

While the water is coming to a boil, brown the chicken Italian sausage in a skillet and break up in to small pieces, we like this REALLY small, but you break it up how you like. You could even leave the sausages whole and slice them if you like

when the sausage is cooked through, remove and drain and throw the garlic and shallot into the plan and saute until just turning brown, add in the mushrooms and stir.

When the mushrooms start to turn brown, salt a little and keep sauteing until the mushrooms are done.

When the mushrooms are done, add in the pepperoncini and the sausage and stir together. Keep warm on low until the pasta is done.

When the pasta is al dente, drain and return to the pasta pot on low heat, add in the sausage & veggie mixture and stir well.

Add chicken broth and Parmesan cheese and stir until it comes together, it will sound "wet" - if it doesn't, add a bit more broth.

Serve family style topped with a bit more cheese and parsley or basil if you have it

Enjoy!