I am a huge fan of Asian food.  I love stir fry and dumplings and potstickers and all of the uber unhealthy stuff that comes in Asian food.  I also like to make my own Asian food to cut back on those unhealthy ingredients. Hot & Sour Soup is easily one of my favorite things to order from the local Chinese food joint – its also super easy to make on your own if you have a fairly well stocked pantry.  Most Hot & Sour Soup Recipes call for dried mushrooms, but I cant get those here year round, so I've adjusted mine to use canned Chinese straw mushrooms.  You could substitute for any type of mushroom you like, but if you use raw mushrooms I'd saute them first to cook before adding to your soup or they'll just be big waterlogged sponges.
If you like it hot, add more sriracha or chili paste, if you don't like hot at all – or have a family that is mixed on the "hot" issue – just put the hot stuff on the table and stir it in to your own bowl!
I live in the middle of nowhere – and our grocery is not always the most adventurous. So be assured, even you with the generic Asian food section in your local market can make this easy to follow recipe!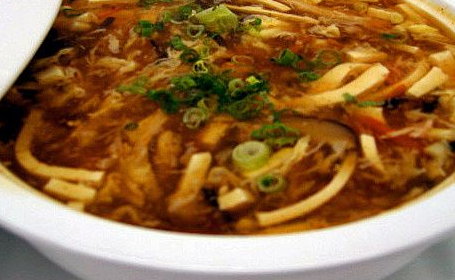 Easy Hot & Sour Soup Recipe
Ingredients
5

C.

Chicken Broth or Stock

I use my homemade stock - it makes a difference in taste but is NOT necessary - but don't use bouillon, way too salty

2

Tbsp

Cornstarch

4

Tbsp

Water

4

Tbsp

Soy Sauce

Low Sodium if you can

1

Tsp.

Ground Pepper

white if you have it - or black is fine

1

Tsp.

Chili Paste or Sriracha

optional & adjustable to your taste - how hot do you want it?

3/4

C

canned bamboo shoots

rinsed and drained and cut into matchsticks

1/2

C

canned Chinese straw mushrooms

diced/sliced

2/3

C

firm tofu

sliced into 1/4" by 1 1/2' sticks

3

Green Onion

thinly sliced with a bit of the green left out for garnish

3

Tbsp

White Vinegar

1

Egg

Lightly Beaten
Instructions
Wrap your Tofu in 2 layers of paper towel and put the bamboo shoot can on top to drain.

In a dutch oven bring your Chicken Stock, Mushrooms, Soy Sauce & Pepper to a boil and reduce to a simmer - cook 5-10 minutes.

Remove your Tofu from the paper towel and cut into matchsticks along with the bamboo shoots.

Add Tofu & Bamboo Shoots, to simmering broth, cook approx. 5 minutes more. This is flexible, but you don't want to cook the tofu into mush.

Stir water and cornstarch together and add into your soup, bring to a boil to thicken and reduce to a low simmer. Add Vinegar, chili paste or hot sauce to your taste and white parts of green onion and bring back to a simmer.

Beat egg in a small bowl and stir soup rapidly in one direction with one hand and drizzle egg into soup with the other. This causes the striations of egg to form and the egg cooks as soon as it hits the hot soup!

Garnish with a bit of the green onion bits left over

Enjoy!