This soup is adapted from a Pioneer Woman recipe.  I have used fresh or frozen cauliflower in this – frozen doesn't need to be cooked as much, but still tastes great.
If you like, you CAN take your immersion blender to this or dump it in the VitaMix to make a creamy smooth soup.  I like it chunky when I use fresh cauliflower, creamy when I use frozen.  Be sure your other veggies are cooked completely if you're going to blend it.
This soup also freezes VERY nicely – and because it is meat-free, it's budget friendly.  This uses chicken stock, so it's not vegetarian, but you could use vegetable stock and make it that way very easily!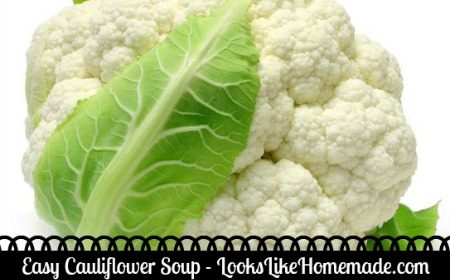 Easy Cauliflower Soup
Ingredients
6

Tbsp

Butter

1

shallot

Finely Diced

1

whole Carrot Finely Diced

1

stalk Celery

Finely Diced

1

whole Cauliflower Head chopped to 1/2" pieces

or 2 bags frozen cauliflower

2

Tbsp

Fresh Parsley

minced

6

Cups

Chicken Stock

or use boullion and water if you must, it still tastes great

6

Tablespoons

All-purpose Flour

2

Cups

milk

1

cup

Half-and-half

1/4

tsp

fresh nutmeg

1/2

tsp

salt

1/2

tsp

pepper

1/2

C

roasted corn

optional

1/2

C

Fresh spinach

optional
Instructions
In a large dutch oven, heat 2 Tbsp Butter & 1 Tbsp Olive Oil, Sautee the diced shallot, celery and carrot until transparent. Add in the diced cauliflower and optional corn and stir well. Cover and let saute for about 10 minutes.

While cauliflower is roasting, in a skillet melt 6 tbsp butter and then add 6 tbsp butter. This will turn into a paste, that's okay. Add about 1/2 C of your chicken stock and cook until the roux turns a little tan in color and cut the heat

Go back to your cauliflower and add the stock in and cover again, cook for 15 minutes until the cauliflower is cooked through.

Add Milk to the stock and cauliflower mixture and add 1/2 and 1/2 into the roux and whip well. Add the roux into your stock mixture and mix well. When this comes to a simmer add in the milk and nutmeg and taste for salt and pepper, add to taste then reduce the heat to just barely bubbling.

Heat through, it will thicken slightly - you can now blend if you want, or leave chunky. If you like this is when you stir in the spinach to wilt it into the soup. Spinach doesn't blend, so don't use it if you don't want green soup!