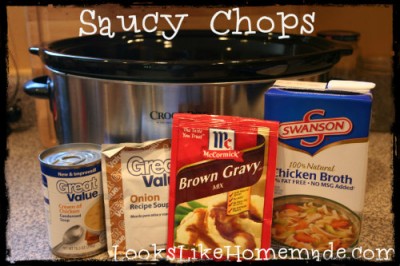 Okay – 10 minutes might be a tad misleading here, but honestly – you can have a healthful, hearty and homemade dinner on the table in 10 minutes, if you're organized and plan ahead.
First, my little secret……instant mashed potatoes.  My family loves them, and they literally are ready in 5 minutes.  They're my secret weapon to get something great on the table quickly.
Yesterday my daughter took some Saucy Chops out of the freezer to thaw.  We left them in the sink overnight as they were frozen solid at bedtime, and when I got up this morning, they were ready to slide right into the crock pot.  Having quick meals ready to go from freezer to crockpot is key to having a hearty dinner in a flash.
So all day long we were tortured with the scent of Saucy Chops wafting through the house.  It was hard, but we made it all day.  I'm not joking – here's the post from about noon today: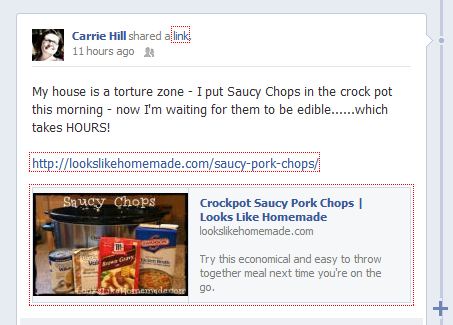 So with chops in the crock pot, getting dinner on with my secret weapon literally took ten minutes.  I whipped up 2 pouches of these babies.  They're the best, and usually only about $1 a pouch – leftovers make great fried potato patties for breakfast.  While the potatoes were in the microwave, I made a quick salad with greens, carrot, celery and tomato and  threw some chopped up broccli in a zip bag with about 1/4 cup of water.
After the potatoes were done, those took 5 minutes, I threw the broccoli in for 4 minutes (dont zip it all the way shut) and set the table…..  Voila – Dinner in 10 minutes.
I work from home now, but on days when I was going into an office for 8+ hours, this technique was a life-saver.  Give it a try – the key is to have prepped crock pot dinners ready in the freezer.  I have 8 great Freezer-to-Cropckpot recipes that are a snap to throw together.