I lived for a long time without a food processor.  I chop by hand many times, and didn't really miss the processor.  I had a Kitchen Aid Mini Chopper that did jobs like nuts and onions, and I was pretty happy.  Then I started paying attention to how much Food Network chefs USE their food processors.  They make dough, crumbs, etc and don't blink an eye.  I finally broke down and got one, and I love it.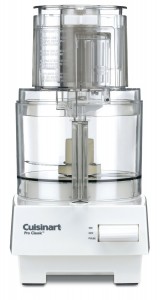 I'm generally a pretty decisive person, I know what I want, and that's what I buy.  With the processor, I went back and forth trying to decide if I wanted to buy a top of the line model, or something cheap in case I didn't like it.  I ended up going with a refurbished top of the line model and ordered the Cuisinart DLC-10S Pro Classic 7-Cup Food Processor from Amazon.  I paid $100 for it, and I think it was worth every penny.  Here is my completely uncompensated review of my food processor.  Do you like yours?  Is it worth having one?
Cuisinart DLC-10S Pro Classic 7-Cup Food Processor Review
My personal experience with my Cuisinart DLC-10S Pro Classic 7-Cup Food Processor and my journey to being a Food Processor cook
This food processor does all I need it to do, and more. I have made pizza and bread dough, salsa, applesauce, coleslaw, veggie slices, tomato sauce, and more. It's pretty easy to keep clean, although you will have an issue if the liquid in your bowl goes above the top of the center post. Some sort of gasket seal here might work really well.
I've never had the machine act like it was working hard and unlike some machines, getting it lined up and ready to mix is pretty easy. The feeder tube has plenty of space and I don't generally end up with large amounts of "unprocessed" food between the slicing or shredding blade and the lid.
Cuisinart DLC-10S Pro Classic 7-Cup Food Processor
Date published: 11/07/2012