So this recipe went around Facebook and I tried it – and then realized that I had to tweak it because a) I don't keep buttermilk in the house; and b) it needed salt. These are Todd and Aerik's favorite biscuit and they are yummy fresh and plain, under your favorite sausage gravy, or with a bit of butter and jam. Just the perfect, simple and delicious side to any meal, weekend or week night.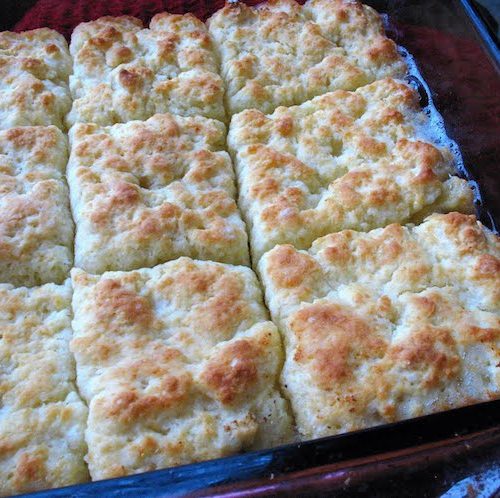 Butter Dip Biscuits Recipe
Ingredients
2 1/2

Cups

Flour

1 3/4

Cups

Buttermilk Or 1 3/4 C Milk + 2 tsp Vinegar - let sit for 5-10 min

1 1/2

Tbsp

Baking Powder

1 1/2

Tbsp

sugar

1/2

tsp

salt

1/2

Cup

butter 1 stick
Instructions
Preheat oven to 450 (yes that's hot - but it works)

In an 8x8 or 9x9 microwave safe dish - melt butter in microwave. If you need to use metal, melt butter in a dish and pour it into the pan

While oven is preheating, measure out milk and add the vinegar

In a separate bowl, combine all dry ingredients

When oven is preheated, mix wet into dry and pour into pan over the butter. The butter will squish up over the batter - that's ok. You can score and slice the biscuits before baking but it's not imperative. Up to you. If you mix before the oven is preheated - it will raise BIG TIME and loose some of it's umpf when you put it in your baking dish - so wait until you're ready to put it in the oven

Bake for approx. 25 minutes, remove from oven and let sit for 2-3 minutes and then slice.