This is an Emeril Lagasse recipe that I found awhile ago but never posted. I had to adjust and there are a few typos here and there – so I decided to repost here to get it fixed up – and have it ready for next time I want to make it!
I remember watching Emeril when Food Network first came on the air. He's probably the first one I saw outside of PBS cooking shows and was the beginning of my love affair with food TV. Now I'm addicted to all of it, from Cooking Channel, PBS and Food Network to YouTube and Pinterest. The fact that I can make and serve a meal that is chef-quality and caliber makes me all warm and fuzzy inside!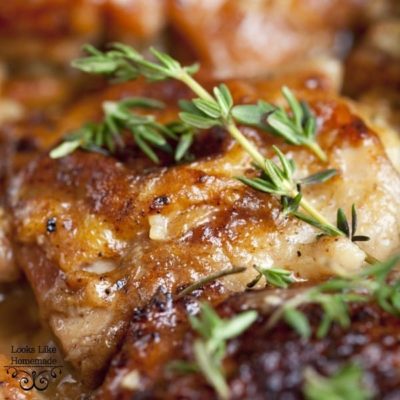 Braised Chicken Thighs a la Emeril
An amazing Emeril recipe for fall - with just a few tweaks from me!
Ingredients
6

chicken thighs

bone in or skinless is fine

1

tablespoon

Emeril's Original Essence

1

teaspoon

salt

1/2

cup

plus 1 tablespoon all-purpose flour

1

tablespoon

olive oil

3

tablespoons

unsalted butter

2

cups

thinly sliced yellow onions

1

tablespoon

minced garlic

6

sprigs fresh thyme

tied in a bundle or just throw them in

1/4

teaspoon

freshly ground black pepper

3

cups

chicken stock or canned

low-sodium chicken broth

1/4

cup

chopped fresh parsley

Buttered Egg Noodles w/ Parsley
Instructions
Season the chicken all over with the Essence and 1/2 teaspoon of the salt. Place the 1/2 cup flour in a small bowl, and quickly dredge both sides of each thigh in the flour, shaking to remove any excess. Set aside.

Heat 1 Tbp of the olive oil in a 10- to 12-inch flameproof casserole or saute pan over medium-high heat. Add 2 tablespoons of the butter, and when it has melted, place the chicken, skin side down, in the pan. Brown for 2 minutes on each side. Remove the chicken from the pan and set aside.

Add the remaining 1 tablespoon butter to the pan, and when it has melted, add the onions, garlic, thyme bundle or rosemary sprigs, remaining 1 Tbps of Flour then whisk in the chicken stock and increase the heat to high. Return the chicken, skin side down, to the pan, and bring the stock to a boil. Reduce the heat to medium-low, cover the pan with a heavy, tight-fitting lid, and simmer for 15 minutes.

Uncover the pan, stir the bottom of the pan to prevent scorching, and turn the chicken skin side up. Cover the pan, and simmer for 20 minutes longer.

Stir the bottom of the pan a final time, re-cover, and simmer for 20 more minutes.

Remove the pan from the heat and discard the herb sprigs. Transfer the chicken to a serving platter. Add the parsley to the sauce, stir to combine, and then spoon the sauce over the chicken. Serve with parsleyed noodles and enjoy
Image Courtesy Emeril.com