This is a keeper of a Blackberry Muffins Recipe for sure! We are at the time of year around here where fruit is stupidly expensive. $1.99 a lb for apples is higher than I've ever seen it. Hopefully spring brings with it some new crops that bring our prices down. Berries must be in season because they've been fairly reasonably priced, with blackberries at $.99 a 1/2 pt at City Market – and I got some for $.99 a pint at Sprouts the other day as well.
Berries keep for a good long time in the fridge if you rinse them well, and get them OUT of that stupid plastic container and diaper thing they come in – that diaper thing causes rot faster than anything. I put mine in a sealed container with a few paper towels in the bottom, that way they're ready to go when you want to make this blackberry muffins recipe! I've had blackberries and blueberries keep for 2-3 weeks in the fridge like this. Raspberries are a bit more delicate, though – they don't keep as long – but they should be stored the same way.
So needless to say, I had a lot of blackberries on hand and while we eat them happily – I wanted to make something for the boys to take with lunch es and have for breakfasts this week. I'm on a low-fat diet so I adapted this recipe just a bit from one I found at SimplyRecipes.com. Hope you like it!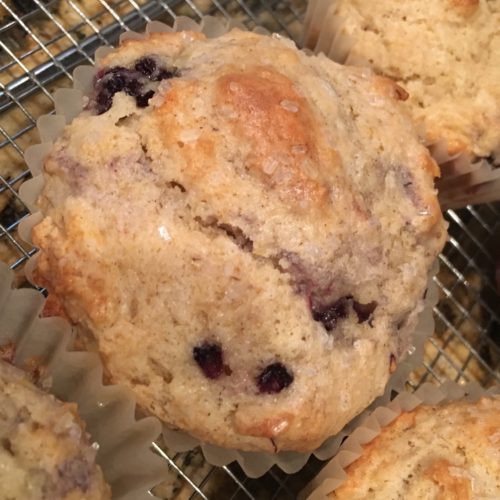 Blackberry Muffin Recipe
These are pretty amazing! Sweet, easy, big and fluffy! Give them a try!
Ingredients
2 1/2

C

AP Flour

2

Tbsp

Wheat Germ

1

Tbsp

Baking Powder

1/2

tsp

Baking Soda

1/2

tsp

Salt

1/2

tsp

Cinnamon

2

large eggs

1

cup

low-fat sour cream

1

tsp

milk

1

C

Sugar

8

Tbsp

1 Stick Butter, melted

1

tsp

Vanilla

1 1/2

C

Fresh Blackberries

cut in half. If you use frozen, stir them in mostly frozen so they don't turn to mush in your batter.

Sanding Sugar

if you have it - totally optional
Instructions
Make sure your rack is in the center of your oven & preheat oven to 400 degrees

Line a Giant Muffin Tin with regular size liners, then spray each cup as well. Trust me -this makes really nice muffins and they crawl up the sides a bit - making them fluffier.

In a medium bowl, combine dry ingredients, flour, baking powder, baking soda, cinnamon and salt with a whisk to incorporate air.

In a large bowl, whisk together eggs, sour cream, milk, sugar, butter and vanilla.

Fold the dry into the wet, very gently - DO NOT OVERMIX

When dry and wet are just combined, add in berries and fold gently - again, DO NOT OVERMIX

Fill muffin cup liners all the way - if you're not using liners - fill the cups up 2/3 to 3/4 in a jumbo tin, nearly full in a standard size muffin tin.

Sprinkle the top with sanding sugar if you have it

Bake for 19 minutes - check with a toothpick. Remove and let cool for a few minutes then move to a wire rack to cool completely.

Store in an airtight container for up to a week - but they wont last that long 🙂
Nutrition Facts
Blackberry Muffin Recipe
Amount Per Serving (1 g)
Calories 280.55
Calories from Fat 102
% Daily Value*
Total Fat 11.37g 17%
Sodium 237.48mg 10%
Total Carbohydrates 40.25g 13%
Protein 4.96g 10%
* Percent Daily Values are based on a 2000 calorie diet.