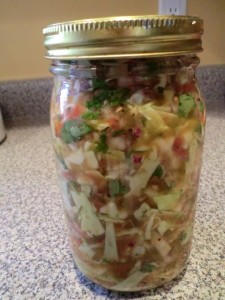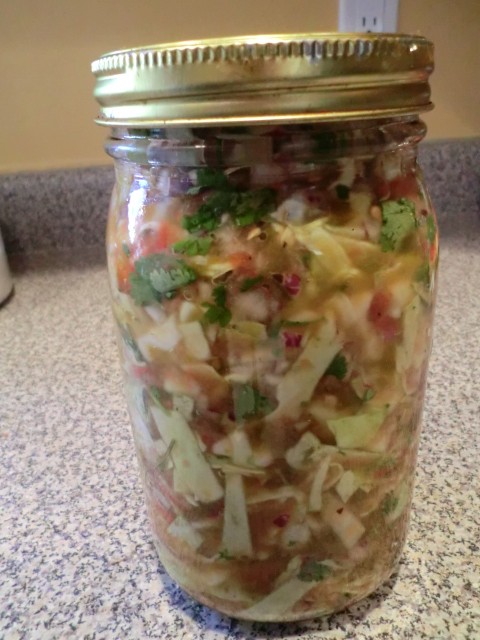 This is another fabulous Tish recipe.  I need to get her bio on this site because her stuff is AMAZING!  She has a Zucchini Carpaccio recipe that will bring down the HOUSE!
I store mine in mason jars – THIS IS NOT a canning recipe.
There is a local restaurant that makes something similar to this – but this is way better and you control the spice and the ingredients – can't ask for anything more!
Spicy Mexican Cabbage Salsa
This salsa will get better overnight as flavors meld. Makes enough for a big party, 14-16 servings!
Ingredients
1 head green cabbage, shredded
4 ripe tomatoes, coarsely chopped
1 small white onion, coarsely chopped
1 small red onion, coarsely chopped
1 bunch cilantro, coarsely chopped
2, 4oz cans chopped jalapenos w/ juice
About 3 T canola oil – enough to moisten salad
Kosher salt
Fresh ground black pepper
1 t. garlic powder, to taste
Directions
Toss veggies and herbs, drizzle canola oil and toss again. Add seasonings, careful to taste and not over salt. Let stand 10 mins and enjoy with tortilla chips.
http://lookslikehomemade.com/spicy-mexican-cabbage-salsa/
Recipe Copyright LooksLikeHomemade.com 2014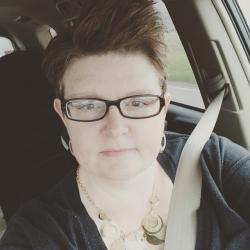 Carrie Hill is the mother of 2 human children, and 5 fur babies. She has a husband who is a great guy, a good food tester, but a bit of a nut, just like her. She enjoys writing, reading, cooking and baking in her spare time.