We try – and sometimes succeed – to make Monday a meatless Monday when dinner time rolls around.  When I described this meal to my kids they wrinkled their noses – but – they liked it!  you could add in veggies if you like – I kept it simple for the first try.
I roasted my red peppers right on the gas burner of my stove.  Char them up on the outside and put in a sealed bowl (cover with plastic wrap) for about 20 minutes – the char and the skin just slides right off.  Cut off the tops and take out the seeds and voila – roasted red peppers.  You want them to get BLACK – so don't be scared!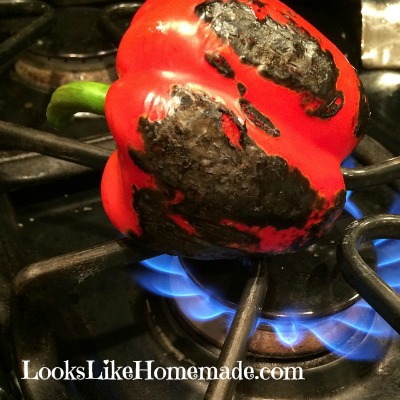 Ingredients
1 lb Fettuccini
3 Medium to Large Red Peppers, Roasted, Seeded & Peeled
2 Medium Shallots - chopped
2 Cloves Garlic - minced
3 Tbsp Olive Oil
1 Tbsp Red Wine Vinegar
1 tsp Salt
1/2 tsp Black pepper
Shaved Parmesan Cheese
Instructions
Cook Pasta according to package directions to al dente - almost completely cooked
In a small skillet heat 1/2 tsp Olive Oil and sautee shallots and garlic until translucent - don't overcook
Place shallot mixture in your blender with red peppers, remainder of olive oil, red wine vinegar, salt and pepper. Blend well.
When pasta is done, drain but reserve about 1/4 cup of the pasta sauce
Return pasta to pan and spoon over about 2/3 to 3/4 of the sauce and mix well - if it's not enough sauce - add a bit more - if its enough sauce but looks a bit dry - add a bit of the pasta water.
Turn pasta out into a large serving bowl and top with shaved parmesan cheese
ENJOY!
http://lookslikehomemade.com/roasted-red-pepper-pasta/
Recipe Copyright LooksLikeHomemade.com 2017