Homemade Laundry Detergent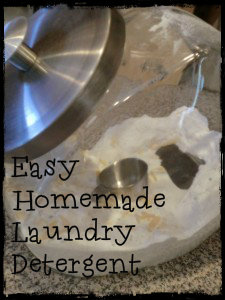 I make my own laundry detergent.  Lots of people think this is nuts – but I made about 3 "gallons" of powdered laundry detergent for about $16.  Because you only use 2 Tbsp per load – this lasts a LONG time.  It is HE washer safe, you just cant put it in the soap dispenser.  I just dump it right in among the clothes and never have a problem with it not dissolving.
I've found similar Laundry Detergent recipes online, but I added a twist to mine to give it added "smell."
Check it out and let me know what you think!
UPDATE:  I just found a box of Zote Flaked soap at Super Walmart.  Zote is a bar soap that can replace the Fels Naptha in this recipe.  Getting it already flaked up is a time-saver, and the flakes dissolve nicely in cold or warm wash water.
Homemade Laundry Detergent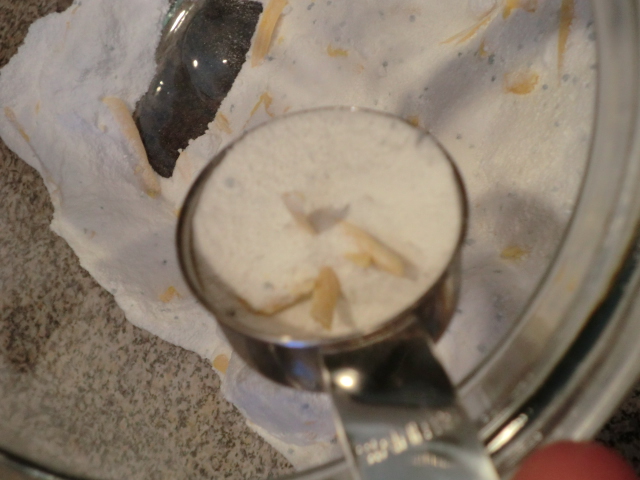 I use a 2 Tbsp Measuring Scoop i bought at Walmart, but you can use the little plastic scoop from the oxygen cleaner or your CURRENT laundry detergent will probably work - just make sure the measurement is right.
Ingredients
4 Cups Zote Flaked Soap (or 3 Bars Fels Naptha Grated on a Box Grater)
1 4lb box Baking Soda (find it in the detergent/soap aisle)
1 5lb box Muleteam Borax (find it in the detergent/soap aisle)
3.5 lbs Oxygen Cleaner (use storebrand - you might need a couple containers to get the right quantity)
1 3lb 7oz box Washing Soda (find it in the detergent/soap aisle)
1/2 Container Purex Washing Crystals (or Downy Unstoppables)
.
Directions
gently dump everything into a clean 3-5-gallon bucket with a lid - this is pretty powdery and you don't want to inhale this stuff.
Snap the lid on and roll it around to mix very well
Transfer as much as you need into a laundry-room friendly size container, store the remainder with the lid on
http://lookslikehomemade.com/homemade-laundry-detergent/
Recipe Copyright LooksLikeHomemade.com 2012