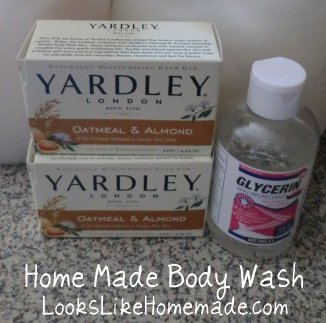 Body wash is ridiculously expensive…….and it seems to go REALLY fast, especially when the kids get ahold of it.  1 jug of that stinky Axe stuff lasts about a week with my 10yo.  I decided I was going to try to find a way to make it, because buying it was out of the question anymore.
Then I found this recipe at the Domestic Diva and it solved my problems!  I used the Yardley Almond & Oatmeal bars – and I'm making another batch using Dove Men's Care for the hubby and 10yo!  It worked great – you just need to be patient because it really does take overnight.
So with these two little ingredients, I made enough soap to last a very very long time.
I also found that you generally have to shake the stuff up a lot because it will get really thick in your container, shake it for a sec and it will loosen right up.  You could also add more water to make a looser "mix" to combat this also, but I like the scent concentration that I have with the batch I made right now.  I have  2 Gallons of soap, about $2 – it's a win win.  Keep in mind, this is NOT going to be really sudsy, but it will get you nice and clean.  It also feels soft going on your skin and doesn't dry me out like some other soaps do.  I live in a really dry climate so I need all the help I can get!
Here's how you do it:
Grate the 2 bars of soap into 1 gallon of water in a large stock pot.

Add 2 Tbsp of Glycerin. You'll find this by the band aids in the pharmacy section at the store (I got mine at Wal-mart,) don't ask my why.

Heat slowly on medium low until the soap dissolves into the liquid.

Remove from heat and put in a safe place overnight. This needs to sit for 10 hours minimum.

The next day, add another gallon of water & stir it up good - I whipped mine with a wire wisk

Funnel it into a container, I used rinsed out milk jugs

Add to your favorite dispenser.