Free Baby or Toddler Slipper Pattern – Crochet – EASY!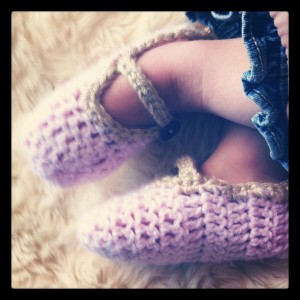 A few months ago I was invited to a Pampered Chef party at the Team Jones clubhouse – and I was so excited because I got to see Princess A – the super adorable.  I had to bring her a little gift, so I found this tutorial online for easy Mary Jane Slippers and gave it a try.  They were super fast and easy to make – I think start to finish it took me about an hour to an hour and a half, and they turned out great.  Luckily, they were the perfect size since I didn't have the princess's slipper size

Aren't they adorable?
Here is the pattern I used, I ended up sewing the strap on tight with a button instead of a flower, as I didn't want anything to come off and be a hazard.  You can embellish as you like.
Find the Pattern at Craftsy.com