I LOVE to make my own ice cream.  I like knowing what is and isnt in it, I like the flavor, I like the sense of accomplishment, I like the variety.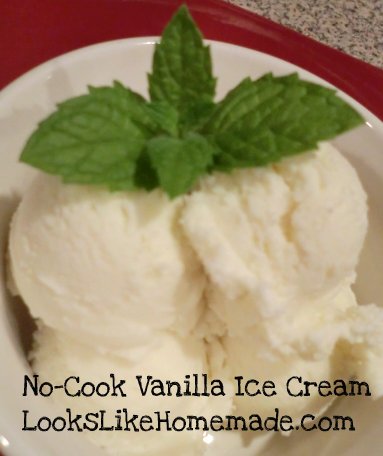 I don't like puttering – and I dont like making my own ice cream with eggs, and I dont like cooking the base and waiting for it to cool before I put it in my ice cream machine.  I like to Mix it, dump it, turn it on, and put it in the freezer.  One note – You should put the insert from your ice cream maker in the freezer the night before so it is EXTREMELY cold and frozen when you start to mix.
First my Equipment.  I have a Krupps 1.5 qt ice cream maker I got at Goodwill for $4.  I don't think they make this model anymore, so find one you like, that doesn't cost a fortune – especially if this is your first machine.  I love mine, it was brand new when I got it from Goodwill, and it works great.  You don't need a $200 machine to do this – honest.
This recipe is really easy – don't blink, you'll miss it 🙂  Here goes:
Easy No-Egg No-Cook Vanilla Ice Cream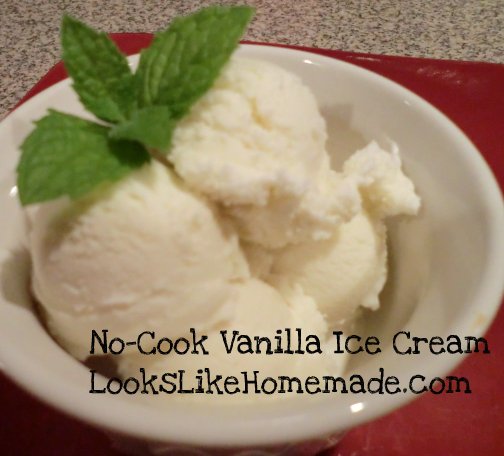 Ingredients
3 Cups Half-and-Half
1/2 C Heavy Cream
1/2 C Sugar
1 Tablespoon GOOD Vanilla (you can also scrape a bean in if you want "vanilla bean" ice cream
tiny pinch of salt
Directions
Mix all this up in a bowl
Turn the mixer on
Dump it in
Churn for about 20 minutes or until it starts to pull together
Done
http://lookslikehomemade.com/easy-no-egg-no-cook-vanilla-ice-cream/
Recipe Copyright LooksLikeHomemade.com 2014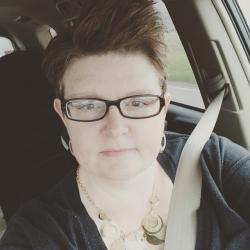 Carrie Hill is the mother of 2 human children, and 5 fur babies. She has a husband who is a great guy, a good food tester, but a bit of a nut, just like her. She enjoys writing, reading, cooking and baking in her spare time.